Will Special Interest PACs Get Council Incumbents Re-Elected?
By Mary Marlow
Beginning in 2010, after the U.S. Supreme Court in Citizens United decided corporations and unions could raise and spend unlimited money, in elections, Political Action Committees (PACs) have dominated spending in national and local elections.
In Santa Monica, PACs have spent between $160,000 and $458,000 to re-elect City Council incumbents in every election over the past ten years.
This election looks to be no different as to the amount of money raised to support incumbent councilmembers and the volume of mailers, door hangers , texts and calls and other means to convince voters to keep them in office.
The PACs supporting incumbent Councilmembers Gleam Davis, Ana Jara, Terry O'Day and Ted Winterer in the race for four-year seats and Kristin McCowan in the uncontested race for a two-year seat have raised $124,000 to date.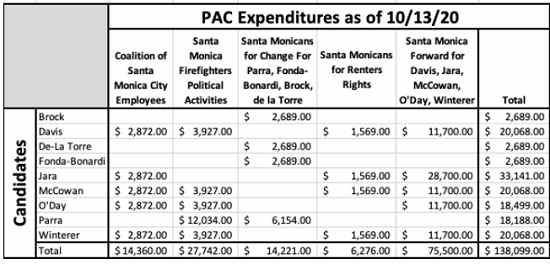 Chart courtesy Santa Monica Transparency
The PACs in Santa Monica that support incumbents promote their special interests. For example, the Santa Monica Police, Fire, and City Employees, whose members are mostly non-residents, usually support the incumbents because the incumbents have supported their high pay and continuing pensions.
Santa Monicans for Renters Rights (SMRR) supports incumbents who agree with their advocacy for renters rights. The Santa Monica Democratic Club usually follows SMRR's policies on issues and candidates.
The Community for Excellent Public Schools (CEPS) supports the incumbents, who will continue City funding for the school and college districts.
To date, the Santa Monica Forward PAC has raised and spent the most money on the incumbents with mailers, door hangers and calls.
Their largest donors of over $5,000 each are business and development firms seeking return on their investments through future Council approval of their upcoming business contracts and/or developments. Their mailers and door hangers promote reelecting the five incumbents.
Likewise, SMRR and the Democratic Club PACs have each sent mailers supporting incumbents.
The Police Officers PAC has decided not to endorse City Council candidates, because of the controversy over Police tactics on May 31, 2020.
Instead, they contributed $45,000 to the Coalition of City Employees PAC for use in supporting incumbent candidates. So, in effect, the Employees PAC has much more money to devote to supporting the incumbents.
Up against this funding juggernaut is a resident challenger PAC called Santa Monicans for Change -- running for the four full-term Council seats.
The Change PAC supports Arts Commissioner Phil Brock, Planning Commissioner Mario Fonda-Bonardi, School Board member Oscar De la Torre and Christine Parra, an emergency services leader in Culver City who lives in Santa Monica.
By contrast, the Change PAC has modest funding at its disposal -- $14,000 up against over $124,000 right now and it has to rely on old-fashioned grassroots campaigning and social media to get its message of change and its challengers' names out.
To better understand who is paying for all those mailers stuffed in your mailboxes, simply look at the disclaimer on the bottom of all mailers that reads, "paid for by".
Santa Monica voters will have the final say. Elections matter -– PLEASE VOTE.
Mary Marlow heads The Santa Monica Transparency Project